Aesthetic appearance
To combine modern aesthetics, the art of living and nature, a wooden framework is the best solution. It allows one to closely follow contemporary architecture, while benefiting from the advantages of wooden construction. Une rénovation de salle de bain commence par une bonne répartition dans l'espace. L'endroit est souvent réduit, chaque élément doit être astucieusement disposé.
A design in line with your ideas
Our versatility is a major asset in the designing of your living spaces, which we will arrange according to your lifestyle. We will be able to create an intimate, warm and welcoming atmosphere, for good living.
The heart of our trade
We build houses or extensions using traditional masonry. The use of various materials constitutes the heart of our trade, and is well-known by us. We will apply and make available our know-how to your project.
Standards
We ensure that your electrical installation falls within the standards imposed by insurers. Our expertise in masonry enables us to offer you a fully embedded installation, which will be far more functional and elegant that an installation under moulding. We guarantee the conformity of our installations according to the standards in force; these will be certified by an independent inspection body (CONSUEL).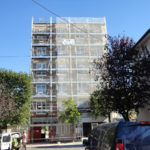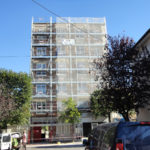 Give your home a facelift!!
Ultimate protection of your home against bad weather, a freshening-up is a point of honour for your home and needs to be looked after. It must be done by the true professionals that we are. Using the latest materials which makes it possible to guarantee there are no leaks in your residence. But freshening-up is also a matter of taste, and it will show everyone what type of house you were looking for. Shades and Materials marry to create the house of your dreams. We will offer you various roughcasts. Our professionals will be able to advise you and will help you, in the case of an extension, to find a colour or a material linked as best as possible to what is in place. All the items of decoration that you wish can be worked-on, such as the door and window frames which will be well-matched.
Do not forget insulation…
Choosing insulation from the outside is a long-term guarantee and a way of saving energy, it is the ideal solution if one is to carry-out a freshening-up of the frontage. Indeed, with this process you will avoid generating thermal bridges located at the level of the concrete floors and so you will obtain savings in heating costs at the same time. With this technical solution you will be able to preserve your habitable area and protect the walls of your residence against moisture and shocks.
 Conclusion
Aesthetic appearance, comfort, economy and environment are the keywords to be retained and to be requested from the company to whom you will have entrusted your freshening-up work. Such is our policy when we offer this service to our customers.